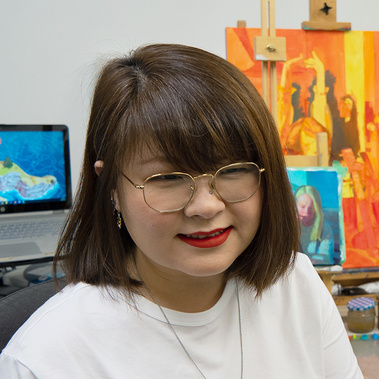 Bio
Caroline Ji (季晨曦)
b. 1988
Caroline Ji is a self-taught artist currently based in Toronto, Canada.
Her current body of work centers around themes of solitude, self-perception, emotional intimacy, and how human beings relate to each other. Memories and thoughts surrounding immigration, gender equality and its power dynamics, cultural identity, observations of the people around her all contribute to the narrative in her work. She is also interested in the design and composition aspects of image making, with current curiosities being around space, time, and mathematics.
She received her BASc in Electrical Engineering from the University of Waterloo in 2012. Her paintings are collected in private collections across Canada, USA, China, and Europe. She has exhibited in Canada and USA.
CV

Education

2012 BASc in Electrical Engineering, University of Waterloo, Waterloo ON
Solo Exhibitions
2020 Blue Hour, Sivarulrasa Gallery, Almonte ON

Select Group Exhibitions
2021 Art With Heart Auction for Casey House, Cowley Abbott, Toronto ON
2021 TONDO, Spoke Art, San Francisco, USA

2020 KITCHEN, Sivarulrasa Gallery in collaboration with Carleton Place and Beckwith Heritage Museum, Almonte ON
2020 Power In Numbers 5, Nucleus Portland, Portland, Oregon, USA
2019 FIGURE, Three Person Show, Sivarulrasa Gallery, Almonte ON
2019 Warrior Painters Group Exhibition, Gallery Nucleus LA, Los Angeles, California, USA
2019 Toronto Outdoor Art Fair, Nathan Phillips Square, Toronto ON
2019 UNWRITTEN, Project Art Toronto at Kontort Production Space, Toronto ON

2018 Figureworks 2018, St Brigid's Centre for the Arts, Ottawa ON
2018 OSA 2018 Emerging Artist Juried Exhibition, Neilson Park Creative Centre, Etobicoke ON
2018 12x12 Show, Spoke Art @ Vertical Gallery, Chicago IL
2018 Toronto Outdoor Art Fair, Nathan Phillips Square, Toronto ON
2018 6th Annual Art Exhibition, Project Art Toronto, Toronto ON
2018 Artist Project 2018: UNTAPPED Emerging Artist, Exhibition Place, Toronto ON

2017 WHO ARE YOU?, Red Head Gallery (401 Richmond), Toronto ON
2017 Toronto Outdoor Art Exhibition, Nathan Phillips Square, Toronto ON
2017 Ontario Society of Artists 144th Annual Open Juried Exhibition, John B. Aird Gallery, Toronto ON
2017 Deep Roots, Living Arts Centre, Mississauga ON

2016 Why the @#&! Do You Paint?: Go Figure, Gladstone Hotel, Toronto ON

Residency
2021 Pouch Cove Foundation Residency, Pouch Cove, Newfoundland, Canada
Commissions

2022 Official Portrait for President William Robins, Victoria University (University of Toronto), Toronto Canada
Teaching Experience

2021 Photoshop for Painters Workshop, Don Valley Art Club, Toronto ON
2021 Portrait Painting in Acrylic Gouache Workshop, Arts Etobicoke, Toronto ON
2020 EDGE: Youth Art Show Jury, Arts Etobicoke, Toronto ON
2020 Composition and Design in Painting Seminar, Don Valley Art Club, Toronto ON
2020 Visual Composition Seminar, Art Guild of Scarborough, Toronto ON
2017-present Teaching (private), Toronto ON
2015-2020 Portraiture and Still-life Painting Instructor, Project: Art Toronto, Toronto ON